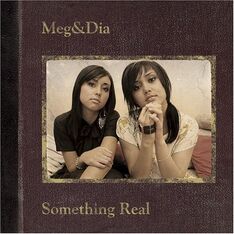 In January 2006 Meg and Dia recorded a second album, Something Real. As a preview for the album, Meg & Dia released an EP titled
What Is It? A Fender Bender
, on July 2006.
What Is It? A Fender Bender
featured Monster and Indiana, which were put on this album. That album was soon after released on August 8, 2006.
Something Real
is made up both new songs and alternate versions of acoustic songs from
Our Home is Gone
. The songs 'Indiana', 'Nineteen Stars' and 'Masterpiece' were re-recorded with a full band, while parts of their song "Timmy" were incorporated into the song "Roses".
In September 2006, it was announced on the Meg & Dia MySpace page that guitarist Kenji Chan was leaving the band to persue a solo career. Nick Price found a replacement - a Canadian guiatarist - Carlo Gimenez through YouTube and the band was once again a complete band.
Songs
Monster
Roses
Tell Mary
Indiana
Masterpiece
Rebecca
Nineteen Stars
Cardigan Weather
Getaways Turned Holidays
Courage, Robert
Setting Up Sunday