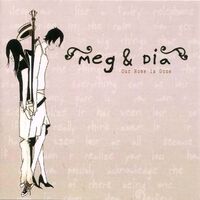 Meg & Dia self-released their debut album, Our
Home is Gone
, in 2005. Only 1,000 copies were ever made (They were all distributed by
Meg
and
Dia
themselves). The ablum is available for download on their bandcamp page.
The album featured mostly acoustic music, because it was only Meg and Dia in the band at the time. They toured a lot in support of it, sharing stages with national acts like The Format, Melee and Steel Train.
After a few acoustic shows playing the songs from this album, they both new they needed a bigger sound. And so they recruited drummer Nicholas Price, and later in 2005, guitarist Kenji Chan. Nick was Meg's car mechanic after she got in a minor car accident (Which became the name for their EP What Is It? A Fender Bender). After Nick joined, Meg and Dia found their bassist Ryan Groskreuetz.
Songs
Masterpiece
Indiana
Santa Barbara (acoustic)
Timmy
How Much
Lessons In New Jersey
Just One of Those Things
My Baby's Better Than Yours
Nineteen Stars
I'll Find Mine
Stawberry Waltz
Santa Barbara

*Sources http://en.wikipedia.org/wiki/Meg_%26_Dia#Our_Home_Is_Gone