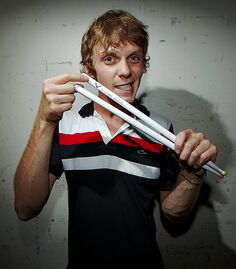 Nicholas Price was born May 27 1984 and is the drummer for Meg & Dia. He was raised in Salt Lake City and began to play the drums at the age of 14. Nick was also in the 2004 University of Utah's Drumline. Nick's drumming influences are;
John Bonham
,
Chad Smith
,
Jose Pasillas
,
Jimmy Chamberlin
,
Dave Grohl
,
Joe Morello
,
Stewart Copeland
,
Steve Jordan
,
Matt Chamberlain
,
Joseph Modeliste
. Nick play Gretsch Drums, Sabian Cymbals and uses Vater Drumsticks . Nick met Meg and Dia when Meg crashed her car in the grocery store parking lot and ended up bringing it to Nick to fix.
Ad blocker interference detected!
Wikia is a free-to-use site that makes money from advertising. We have a modified experience for viewers using ad blockers

Wikia is not accessible if you've made further modifications. Remove the custom ad blocker rule(s) and the page will load as expected.