Dia Frampton was born on October 2, 1987. She is the lead singer of Meg & Dia. She attended
Dixie High School
in
St. George, Utah
and Shadow Ridge High School in
Las Vegas, Nevada
; she graduated early by also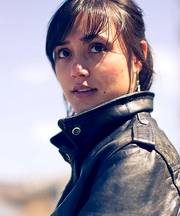 homeschooling her senior year at the same time attending public school for her junior year in 2005 then moved to Salt Lake City with her sister to further their music career. She is influenced by
Modest Mouse
,
Tom Petty and the Heartbreakers
,
Joni Mitchell
,
The Avett Brothers
,
Rocky Votolato
,
Ben Folds
,
Etta James
,
Death Cab for Cutie
,
The Cranberries
, and
Cursive
.
[19]
During live performances, Dia plays percussion instruments, such as the
cowbell
and
tambourine
, and occasionally a
Casio Privia
keyboard. She almost always performs without shoes on. Dia often recorded a "song diary," an impromptu recorded song, on her
MySpace
page. She explained, "It was something very raw, and to be honest, something that I was slightly embarrassed to put up because of the quality but I did anyways, for any of our listeners who would care to hear something not hot off the production belt, but something more organic and 'home made.' It made me feel better to share my feelings with people who could connect, and think that is what happened with many."
[20]
Dia was featured in "Where Are You Now?", a song by The Summer Set. The song was released on the band's album, "Love Like This", on October 13, 2009.
Dia was the runner-up on the first season of The Voice on NBC, selected by coach Blake Shelton who said "when I heard your voice, I started to smile." Dia advanced through the show's quarter-finals and semi-finales after renditions of "Heartless" and "Losing My Religion". In the season finale, she sang "Inventing Shadows", an original song written by Fraser T. Smith. Notably, the aforementioned singles were the highest charting iTunes digital songs by any contestant on The Voice during its respective voting eligibility period, with "Inventing Shadows" topping the charts at #1. Following the season finale on June 29, 2011, "Inventing Shadows" debuted at No. 20 on the Billboard Hot 100 with 137,000 downloads sold. As of July 7, 2011 Dia's The Voice digital releases have sold 480,000 downloads.[21] S Dia likes to write children stories and novels.